With the sheer increase in the popularity of veganism due to ethical, environmental and/or health reasons, there's just no denying that you're surrounded by at least one vegan in your life. And if you happen to be a vegan yourself, you know you've made the right choice. However, struggling with making food on a daily basis, especially breakfast and in a hurry, can be quite the task for you. But worry not! We have a solution for you!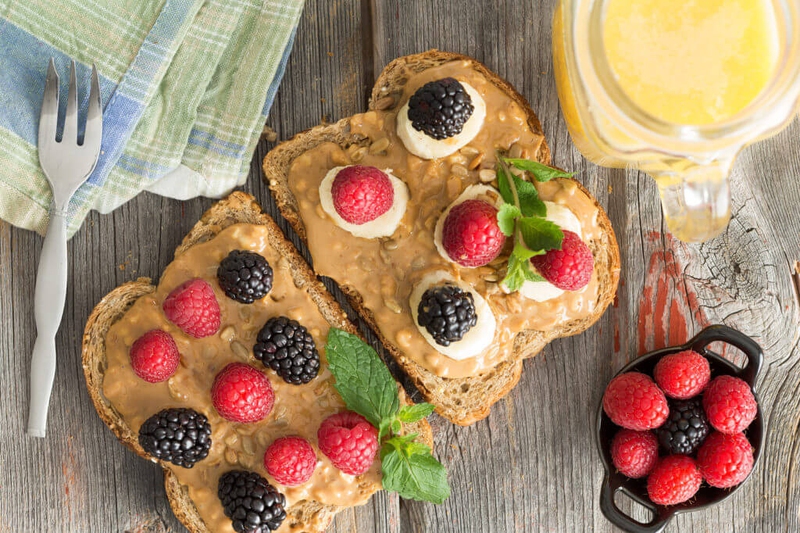 Vegan Breakfast Ideas
Here are our top pick of the best breakfast ideas for vegans that we could scour from the internet. If one doesn't work for you, don't worry. Another definitely will! Just make sure you've prepared everything the night before so that cooking the food in the morning saves a lot of time for you.
1
Matcha breakfast pizza
Regular pizza sucks, not only because of the high number of calories it has, but also because of how much meat and cheese it has. Eww! So how about a pizza that's not only delicious but is also a powerhouse of antioxidants? You can make a crush from matcha powder and buckwheat flower. Use vegan cheese, tomatoes, onions and bell peppers as toppings, or you can opt for fruits like bananas, goji berries and pineapples. Then simply pour a healthy amount of creamy vegan yogurt or pure maple syrup on your pizza, and you're good to go!
2
Stewed fruit
Take fruits of your choice, mix them and stew them gently. You can keep this recipe fresh in the fridge for 5 days, and it always tastes better with some yogurt or your fav cereal in the morning!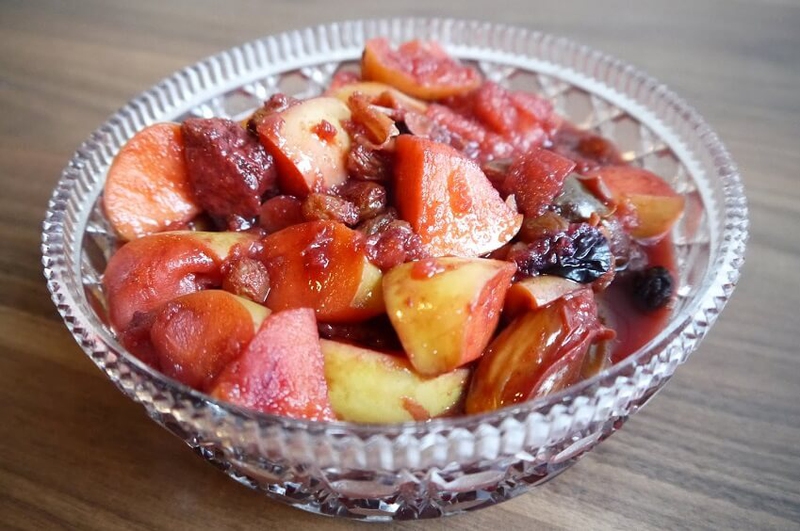 3
Toast
When it comes to simple vegan breakfast ideas, the humble toast often skips the minds of many because of how ingrained our minds have become – we always associate bread with butter. But here's the thing – you can easily substitute dairy butter with jam, marmalade or even dairy free margarine. Toast your bread or eat your bread as a sandwich. That's totally up to you!
4
Vegan French toast
Yes, it's possible! All you gotta do is to whisk some almond milk, maple syrup, stevia, flour, nutritional yeast, cinnamon, nutmeg and salt to get your "egg" substitute. To spice things up (literally), you can add ground cinnamon or nutmeg to the mixture. And when you're done, don't forget to top it off with pure maple syrup. Yum!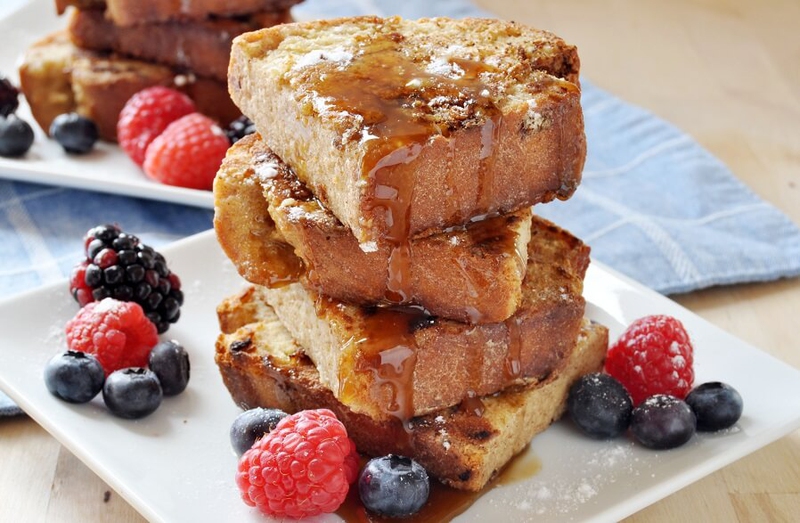 5
Energy bars
Sure you can buy energy bars from the store and a lot of them are vegan but they're loaded with preservatives and sugar. Instead, opt for homemade energy bars made from flaxseeds, walnuts, rolled oats and wheat germ. Increase or decrease ingredients as per your liking.
6
An exotic acai smoothie
Take a milk base of your choice, and add sliced bananas, coconut flakes, acai berries to it, and run it all in your blender. And voila! You have your very own healthy vegan breakfast – a smoothie.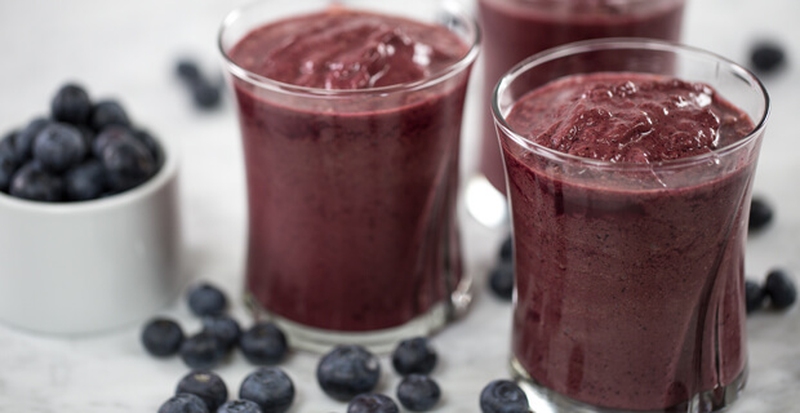 7
8 vegan sandwiches under 500 calories
Never miss these sandwiches when looking for vegan breakfast ideas. Irrespective of whether or not you're on a diet, eating sandwiches with high calorie is a blessing for your body. Of course, you don't have to use the exact ingredients mentioned in the video – you can whip up your own food combinations! And that's the beauty of a homemade vegan sandwich!
8
A sausage sandwich
Well, with a vegan sausage of course! Take 2 slices of bread and 2 pieces of vegan sausage, add some mustard/ketchup or spice of your choice, and you're good to go!
9
Tomato, basil and tofu scramble
This is a quick 5 minute recipe that can instantly fill up your stomach and give your body the necessary dose of energy it requires to function in the mornings. To spice things up a bit, add a little bit of pepper, garlic, mixed herbs and other spices of your choice!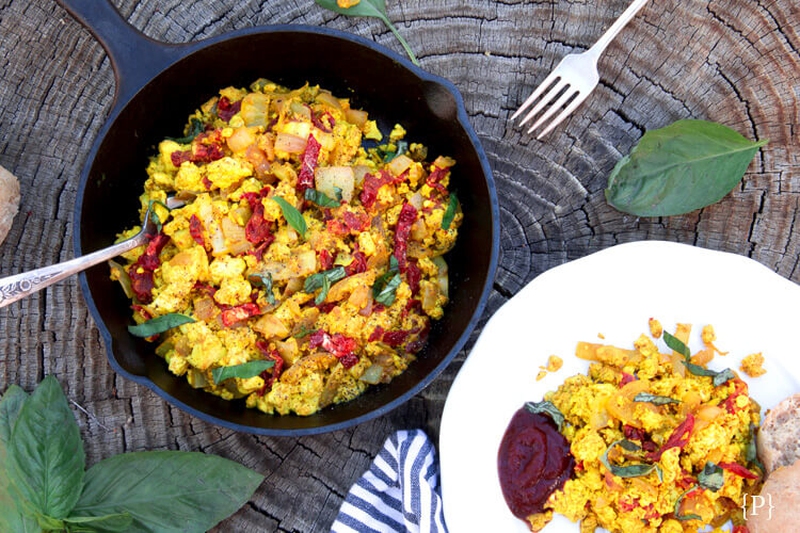 10
Easy chia pudding
This one cannot be made on the fly, and that's because chia seeds have to be soaked in coconut milk for a few hours in order to make a paste. When the paste is ready, add fruits of your choice to it. Some suggestions are – mangoes, blueberries litchi, bananas or even cherries. This pudding also helps bring down your blood sugar levels, which is another plus of vegan breakfast ideas like these.
11
Vanilla cashew yogurt
Why opt for store bought yogurt, even the vegan ones, when they are sooooo full of processed ingredients and sugar? So go ahead and opt for this homemade cashew yogurt, with vanilla or any essence of your choice. It looks and feels the same as actual yogurt, except that it's healthier and 100% cruelty free. You can add oats or coconut flakes to your recipe if you're feeling extra hungry and need something to fill your stomach with.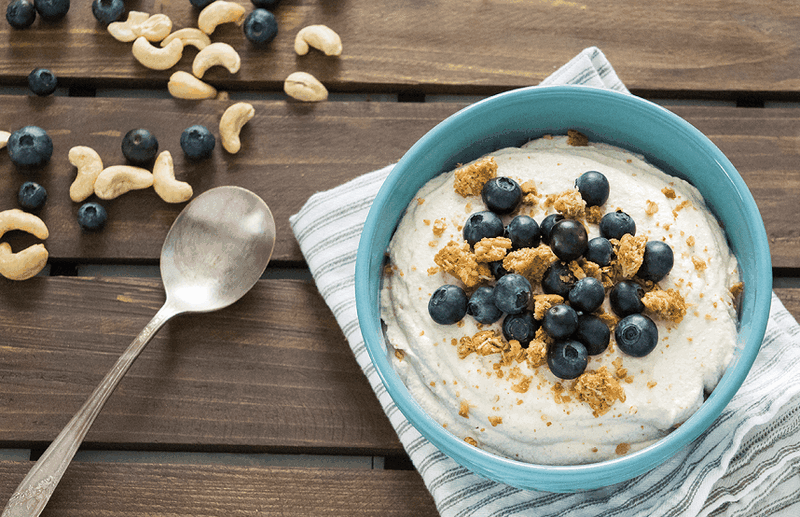 ANY IDEAS ABOUT THIS TOPIC?