There are days when we just don't feel like ourselves. Sometimes this is from getting bad news, having a fight with someone you love, or being worried about an upcoming event or sick relative. Other times, it can just be from boredom, feeling sick or just the weather. Whatever the cause, most people can turn to a good movie to help bring them out of their funk. When you aren't feeling like yourself, you'll want to stay in with one of these movies here.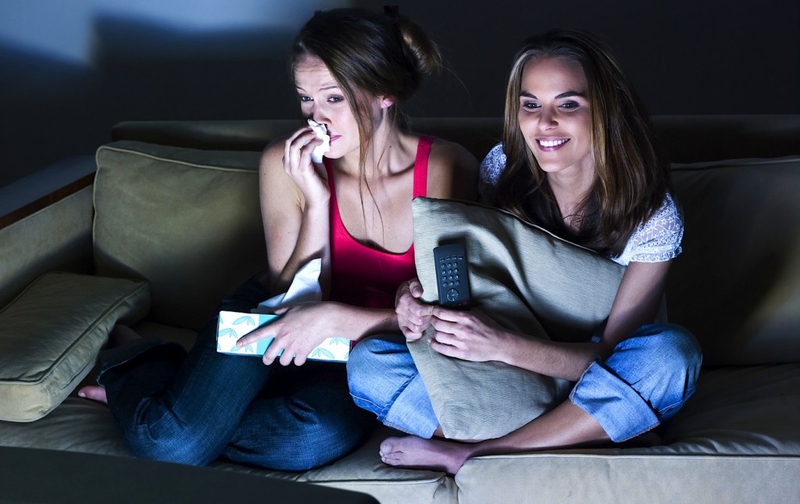 20 Movies to Watch When You're Sad
1
Back to the Future, 1985
When you wish you could just transport yourself to another time, this is the movie to watch. You will become completely immersed in the film that you forget about your anxieties and stress. When it's over, you will simply feel good which is what you want to feel after hard times.
2
Big Hero, 2014
We all feel alone at times and it isn't an easy feeling to cope with. This film will remind you that you are not alone and that there are always people around you that love and support you through all or any of life's difficulties.
3
Legally Blonde, 2001
While it may poke fun at the stereotypical blonde, there is something empowering about the main character's ability to just bounce back. No matter what life throws at you or how many people seem to be against you, this film will remind you to keep a positive attitude through it all and make the best out of even the most embarrassing situations.
4
Perks of Being a Wallflower, 2012
Based off the best-selling book with the same title, this movie will help you realize that so many others are struggling just like you. It can be easy to feel hopeless and like no one understands, but this film will help you put things into perspective.
5
Frozen, 2013
There are plenty of Disney movies to watch when you're sad that would just make you feel better. With the catchy songs and loveable characters, Frozen is the perfect movie to put on when you just want to escape temporarily from your troubles.
6
10 Things I Hate About You, 1999
This film has a little bit of everything in it from comedy to romance. More importantly, it will remind you that being yourself and not fitting in is perfectly fine.
7
Silver Linings Playbook, 2012
We all go through things that make us feel like things just will never get better, but this film will help you see that this is not always the case. Even when things just seem to always go wrong, you will be reminded to enjoy the journey with the good parts and the bad ones.
8
Soul Surfer, 2011
When you are facing an incredibly difficult time, it can be hard to see the bigger picture of what is in store for you. This movie will give you a new perspective on why you are going through such a difficult time and to have hope that things will turn out the way they are meant to be.
9
50 First Dates, 2004
What better way to bring you out of a slump than with a good romantic comedy? Not only will you laugh, but you will also remember that each day is a brand new day to try again.
10
Eat, Pray, Love, 2010
This film takes you on a fantastic journey filled with hope. Whenever you are feeling as if your life could simply not get better, watching this film will help you see that you can come out happier and stronger than you ever imagined.
11
Good Will Hunting, 1997
There are so many reasons why this film is on our movies to watch when you're sad list. From the outstanding performance to the inspiring dialogue, this is one film that is a must-see for anyone who is going through a rough time.
12
Life of Pi, 2012
Very few films will be able to remind you that being who you are is good enough. When you need a reminder that you simply need to trust in yourself and what you believe, this is the film to watch.
13
About Time, 2013
When you need a reminder that sometimes bad days just happen and that's OK, you'll want to watch this film. While it may seem like just another love story, it will help you remember to appreciate the smaller things in life and to let go of the bad days because they don't last forever.
14
It's Kind of a Funny Story, 2010
Mental illness isn't something that many talk about but is something many suffer from. Whether you are suffering from depression, anxiety or just having an off day, this film will remind you that you are not alone and what you are feeling is not something to be ashamed of.
15
The Birdcage, 1996
When you simply need to laugh, this is the film for you. Robin Williams gives a phenomenal performance that is sure to lift your mood.
16
The Lord of the Rings Trilogy, 2001- 2003
If you are planning on staying in the whole weekend to binge movies to watch when you're sad, then these films should be on your must-watch list. You will not only forget about your troubles, but after watching them, you will simply feel better about life and all the struggle you have overcome.
17
500 Days of Summer, 2009
If you are looking for a film that you can just watch and be in awe over, then this is the film for you. This movie will provide you with the perfect escape from what you are feeling though beautiful shots and charming characters.
18
Amelie, 2001
While this is a French film, anyone will be able to relate to it. Sometimes when you are feeling really down, you need to be reminded to just do something good for someone else, and that's what this film is all about.
19
Lagerfeld Confidential, 2007
This may not seem like the typical uplifting film to watch, but there is something about it that makes you realize life isn't all about the glamour and adventure. When you feel like your life is just mundane, this one will remind that most people's lives are just that.
20
The Hangover, 2009
When you need a cure for your blues, this movie will have you laughing until you cry. With some many random events and unexpected twist, this film will have you forgetting about what has you down.
ANY IDEAS ABOUT THIS TOPIC?