Kids are notorious for changing their personal tastes from minute to minute. And, that's okay – it's all part of the fun of growing up.However, when it comes time to decorate their rooms, constantly updating the décor to reflect those ever-changing tastes can be exhausting, not to mention expensive. Use these tips to design a bedroom that will grow with your child and still let them express who they are.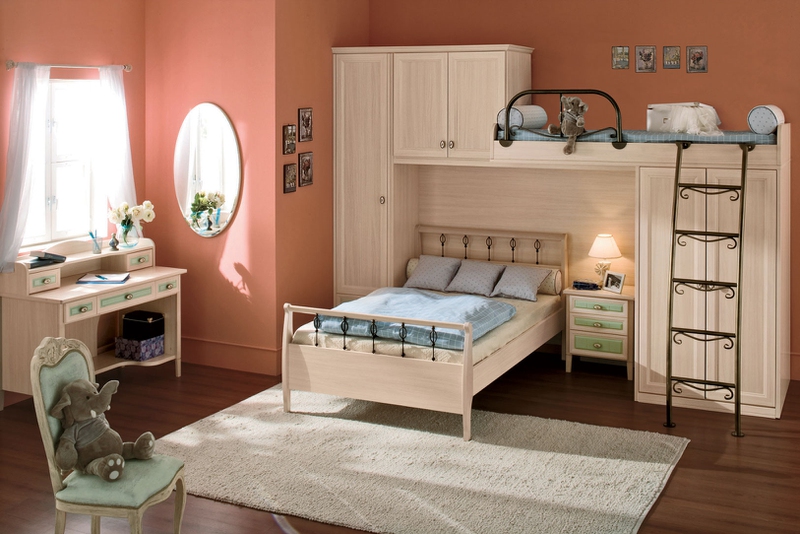 Part 1
1
Invest in Timeless Furniture:
When you have a little one, it's easy to get taken in by picturesque nursery items. However the cuteness of those pieces far outstrip their longevity. Once your child ages a few years, they will seem too juvenile and you will once again find yourself at the store. Instead, look for furniture that you could see keeping in your home for years to come. For example, rather than buying a child-sized bureau, choose one that their clothes will grow into. If you have the space, invest in a double bed over a single accommodate more sleeping arrangements any visiting guests.
2
Choose Multifunctional Furniture:
Double-duty furniture is ideal, especially when looking to transition a room from a space that is fit for an infant into one that is ready for a child. Think outside the idea of a standard changing table and purchase a desk or dresser that can be fitted with a padded changing mat. This way, you can use the changing table while you need it, but your child has a ready-made space to do her homework once she starts school. Similarly, when it's time to start shopping for a bed, look for one that has built-in storage underneath. The storage will help the room stay looking crisp and clean while also giving you extra options to put away a never-ending supply of toys.
3
Keep Pricy Design Elements Neutral:
In any design project, there are a few areas that you want to stand the test of time – floor coverings, furniture pieces, and paint colors. Instead of using these things to make a statement – such as the painting the walls of a baby's room a pastel pink or blue – choose an option that has staying power. Pick paint colors that are warm and inviting, classic finishes for your furniture, and floor coverings that are universal.
Where neutrality is concerned, price is a good rule to follow. If the item you are purchasing costs a significant amount of money, make sure that it won't feel outdated in a short amount of time. Leave incorporating trendy décor to items that you won't mind replacing when they go out of style.
4
Add Personality With Accessories:
Of course, your child's room should not be devoid of personality, far from it. This is their own space and they should be encouraged to use it to express who they are. Just make sure to add those pops of personality with accessories that can be changed as easily as their interests. This means items like rugs, throw pillows, and picture frames that you would be fine with swapping out on a semi-regular basis. Additionally, while it's always great to keep clutter to a minimum, allowing your child to choose a few knickknacks for display in his room is a simple and affordable way to allow him to feel involved in the design process.
5
Keep Your Child Involved:
Your child's bedroom is the area in which he will be spending most of his time, so it's critical that he feel at home in the space. In her book, "Room for Children: Stylish Spaces to Sleep and Play", author Susanna Salk reiterates the importance of compromising. She suggests reminding your children that, while their rooms are their own space, they are also part of the house as a whole. Don't be afraid to be clear about the areas that you are open to discussing and which may be non-negotiable. But keep in mind that the better your child feels about his or her space, the more likely it will be taken care of in the long run.
6
Final Conclusion:
When it comes to kids, nothing is permanent. They change their favorite foods, colors, and styles as easily as the wind blows. Why should the design of their rooms be an exception? Be prepared for these requests for change to come and open to them when they come. However, by following these tips to design a room that grows along with your child, you can save yourself a lot of time, money, and frustration in the process. But, best of all, you can respect your child's unique personality while doing so, which is never a bad thing.
ANY IDEAS ABOUT THIS TOPIC?