Disney Princesses have been getting mixed reviews recently, with some commentators questioning the lessons they're teaching young girls about womanhood. But the successful women behind Disney On Ice presents Dare to Dream, say they've got it all wrong.
These talented performers – themselves an inspiration to the next generation – have taken on some of the most iconic, best-loved roles of all time, including Snow White, Cinderella, Rapunzel from Tangled and The Princess and the Frog's Tiana. And they believe there are many valuable lessons that girls can learn from Disney Princesses.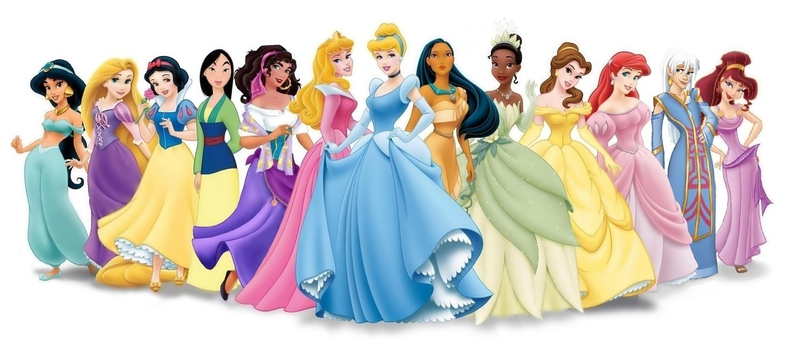 Part 1
1
Being a Disney Princess takes dedication
Along with the characters they portray, the Disney On Ice performers are a living embodiment of what can be achieved through hard work and dedication. Sure to inspire young girls with their grace, agility and technical brilliance, they're a study in working hard to reach your goals – a refreshing change from the Insta-celebs we're constantly paraded with. "Performing in front of thousands of people takes a lot of dedication, but once you step out onto the ice and see the audience and how much they are enjoying the show, it's definitely worth it,' says Brittany Vice, who portrays Snow White.
2
Portraying a Disney Princess is a huge responsibility
With Dare To Dream celebrating 75 years of Disney Princesses, these are iconic roles with a rich history behind them, and ones the performers don't take on lightly. "Snow White is the first and youngest Disney Princess. I feel many young children and even adults look up to her," says Brittany. Adds Veronika Grigoreva, who plays Rapunzel: "I do feel that it is a big responsibility, and I'm always trying to do my best to be as close as possible to the character I play. My goal is for the audience to see not just a performer, but a real Disney Princess!"
3
Princesses are made of strong stuff
Faced with a bleak outlook, Disney Princesses stay positive and dream of a better life – something we could all do a little more of at times! "Snow White is optimistic," says Brittany. "Even though she is forced to scrub floors and cook and clean, she smiles and makes the best of it, not because she has to, but because she wants to." Adds Lauren Anderson, who portrays Cinderella: "I most admire Cinderella's courage. She has the courage to dream of a different life and the courage to stand up to the adversity brought on by her stepfamily."
4
Disney Princesses make good friends
With issues such as bullying, cyber trolling and mean girl mentality all-too-frequent realities in this day and age, Disney Princesses make a refreshing case for being a good person. "Cinderella is a very lovable character,' says Lauren. "She has incredible values and is equal and fair. She is a princess you could imagine to be your best friend." "I believe little girls love Snow White because she is genuinely a good person," agrees Brittany. "She's very sweet, gentle, playful… and I love how friendly, open and funny she is!"
5
When the going gets tough, Disney Princesses get going!
As their real-life counterparts will attest, these princesses are amazing advocates for creating the change you want in your life. "Often people can get caught up in what is comfortable and feel afraid to change their lives, but the story of Cinderella shows that no matter your standing and current position in life, if you're not happy, you should summon up the courage to make a change," says Lauren. Meanwhile, Brittany says of Snow White: "She really showed little girls and boys that if you dreamed big and worked hard, you could change your life."
6
Disney Princesses have girl power
Whether they're twirling above the ice attached on silk (Rapunzel), teaching Princes that love is stronger than looks (Tiana) or demonstrating that good wins out over evil (Snow White and Cinderella), these Disney Princess and the performers who bring them to life are showing a new generation of girls how to kick butt. Sounds pretty great to us!
ANY IDEAS ABOUT THIS TOPIC?