Hard to imagine now, as a winter storm swept through the DC area, but in just a few weeks the nation's capital will be abloom with hundreds of cherry blossoms. Yes, that's right: The National Cherry Blossom Festival is right around the corner – with the official dates of peak blooming time announced this week by the National Park Service. So mark your calendars — blooms are predicted to peak March 26-30.
The annual event typically attracts 1.5 million visitors a year, with 2013 now ushering in the festival's 101st year. If you can't make it to DC, you still have plenty of options for viewing cherry blossoms nationwide. Did you know that Philadelphia is home to its own impressive display of cherry blossoms, which were planted a few years after World War I? From the East to the West Coast, check out the top cherry blossom festivals to enjoy beyond Washington, DC this spring.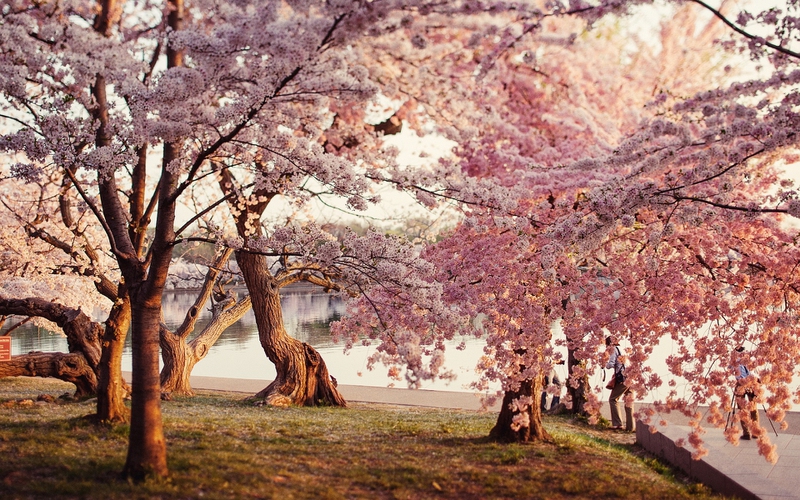 Part 1
1
EAST COAST
Cherry Blossoms at Brooklyn Botanic Garden
Late March
Beginning in late March, a 5-week display of hundreds of blooming cherry trees unfolds at Brooklyn Botanic Garden. The garden is home to more than 200 cherry trees from 42 Asian species and cultivated varieties, making it one of the top cherry-viewing sites outside of Japan. The first cherries were planted at BBG after World War I, as a gift from the Japanese government.
Subaru Cherry Blossom Festival (Philadelphia)
April 1-26
This annual spring festival in Philadelphia commemorates a 1926 gift of 1,600 flowering trees to the city of Philadelphia by Japan as a goodwill gesture. The festival showcases more than 45 events — the largest event is "Sakura Sunday," held at the Horticulture Center in Fairmount Park. Among the day's highlights include a chance to meet visitors from Japan and watch a tree-planting ceremony.
2
THE SOUTH
Macon Georgia's International Cherry Blossom Festival
March 15-24
Organizers call this the pinkest party on earth – and they're not kidding. Macon is known as the "cherry blossom capital of the world," with 300,000 Yoshino cherry trees that bloom around town beginning in late March. The annual event began 31 years ago, following a nearly decade-long collaboration between a local realtor and area resident to plant the trees around town. By 1982, the trees were such a fixture of the city that the annual event was born.
Nashville Cherry Blossom Festival
March 23
Thought Nashville was all about the Grand Ole Opry? Think again. Since 2009, this annual festival has celebrated the arrival of spring, as well as the friendship between Japan and the United States. The festival was envisioned by the first consul general of Japan in Nashville, Hiroshi Sato, who proposed planting 100 cherry trees each year, over a 10-year period, throughout Nashville.
3
THE WEST
Cherry Blossom Denver Festival
June 22-23
Head to Denver for Colorado's celebration of Japanese-American culture. In the spring, Denver's Cherry Creek neighborhood comes alive with the blossoms of hundreds of cherry trees. (The first Japanese cherry trees were actually planted in Denver in 1937; however, the trees were subsequently destroyed following the outbreak of World War II. In the decades to follow, the local Soka Gakkai International-USA Buddhist center recommitted to planting cherry blossom trees.) Now in its 41st year, Japanese culture and heritage are showcased in this free, annual event, with dance, taiko drums and martial arts featured on an outdoor stage near the Denver Buddhist Temple.
4
WEST COAST
Northern California Cherry Blossom Festival (San Francisco)
April 13-14, 20-21
This annual festival — the second largest festival outside of Washington, DC – attracts an annual crowd of more than 200,000 people to celebrate the blooming of cherry blossoms in Northern California. The annual festival first took place in April 1967. The tradition has continued ever since, with festivities spanning 2 weekends. During this time, the streets of San Francisco's Japantown showcase Japanese dancing, singing, martial arts demonstrations and more.
ANY IDEAS ABOUT THIS TOPIC?