Objective is normally put in the cover letter's body. However, a number of applicants include the objective in their resumes. Where you want to put the objective is a personal choice, what matters is what to put in objective for resume. The objective reflects your goals and the areas where you want to excel, which is very important in giving the right impression to the employers about your job credentials.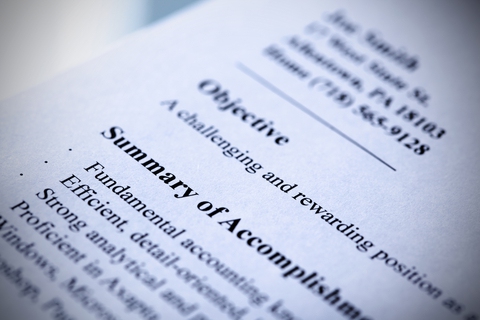 Part 1: What Is Resume Objective?
1
A resume objective is a concise yet expressive statement that shows the employer how you can be positioned to their company. The objective statement should be able to assure the employers on two fronts with one being that you are totally fit for the job opening and the other being that you comply with the company's mission statement as well. For an objective statement to be useful, it must be compelling and must put your skills in the spotlight.
The objective is best placed in the cover letter where it should follow up on a short synopsis of your career so far. If you want to place the objective in your resume too, it should be placed right at the start of the resume telling the employer how you are the best fit for the job and company.
Part 2: What to Put in Objective for Resume
The objective can vary based on different professions and conditions. What to put in objective for resume needs to be written to you current conditions and career goals. Below are some sample objectives for resume.
1
Objectives Based on Your Conditions
The objectives in your resume can vary from your own conditions, here we list some sample of objectives based on your conditions:
If you are applying for a beginner level accounting position: A place in the field of accounting where my proficient analytical and well-groomed technical expertise can be utilized to enhance the company's profits.

If you are applying after gaining a couple of years of experience: A Data Entry post where spreadsheet development expertise and troubleshooting experience can increase efficiency and improve productivity.

If you are applying for a job in a different field: An Assistant Engineer post where construction know-how, mechanical ability and dedication to innovation can ensure productive operation.

If you are applying for a creative job: A place in the Graphics Design field where innovative skills and creative graphic ideas will lead to production of valuable products for clients.
2
Objectives Based on Your Applying Positions
Assistant in Administrative Department: I am looking for a job in the software industry with a focus on sales, marketing and customer management.

Education: I am a committed individual looking to utilize my experience and educational knowledge to aid students in learning through modern techniques.

Education Administrator: I want to work in administrative capacity in the field of adult education.

Assistant Engineer: I want an engineering position where my knowledge and expertise about electronic devices can be best used.

Senior Manager: I want a senior post in the banking sector with focus on management of operations.

Financial Advisor: I am looking for an advisory role in a thriving organization where my financial skills will lead to profitability.

Marketing Assistant: I am seeking a marketing job where my skills and technical expertise in modern marketing techniques can help increase the company's sales.

Senior Engineer (Mechanical): I am seeking a senior post as a mechanical engineer where my experience, technical expertise and knowledge can be best used.

Medical Internee: I want a position as a medical assistant where my skills in clinical practice and research can be put to use.

Receptionist: I seek a position as a receptionist where my data entry, MS Office and switchboard skills will be best utilized.

Sales Assistant: I want a sales assistant post in an emerging company with potential to grow.

Technical Manager: I am seeking the post of technical manager where my software skills and expertise can be put to use.

College Professor: Looking for a college professor position with a focus on practical teaching using modern learning techniques.
Tips
Be concise. HR managers don't want stories or a long list of your wants and desires. Objectives should be kept as concise as possible with a single sentence normally sufficing. A job application is doomed for rejection if the resume contains an objective that is over 100 words long.

Think about WIIFT. WIIFT means 'What's in it for them'. A resume is more of a sales pitch where you sell your abilities and experience to employers. Although, the objective statement is all about what you want, you must consider what's in it for the employers when including it in your resume. In your objective, assert about the position and field that attracts you and then indicate the key skill that you want to utilize. The skill should be one which the employer is looking out for in the applicants.

Keep it to-the-point. Objective statements need to be to-the-point, specific and should tell the employer the field and job that you really want. It is a waste of time that put such an objective in your resume: I want to work in a thriving firm where your qualities can be utilized to the best. If you decide on putting an objective in your resume, you must make sure that it's specific and doesn't beat about the bush.

Things to avoid. If you find yourself applying in a company where there are a number of positions that you are qualified for (even if most of them are not open at the moment), it's best to not include an objective in your resume or cover letter as it would limit your choices in the future. Also, never include an objective statement in the resume if you intend on using it at career fairs or at employment websites or where you can be considered for multiple positions.
ANY IDEAS ABOUT THIS TOPIC?