Farmers across the country must be surprised to know how prized their castoffs have become. Battered milking stools and well-worn benches are a big interiors trend, lending a wonderfully weathered character, while orchard ladders double as clothes rails and old farmhouse chairs can be put to use as side tables. So if you're a farmer, you might want to rummage through that old barn.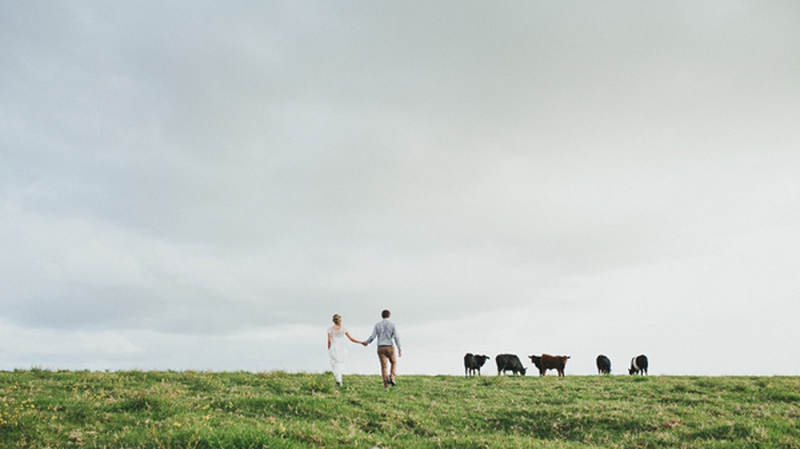 Part 1
1
Prop up a ladder. This traditional orchard ladder would originally have been used to gather in the apple harvest. Now it's getting a second lease on life as an interiors prop.
In this contemporary, double-height space, it serves as a visual device to bring interest to the top half of the room, but it also would work in a bedroom or bathroom as a great spot for hanging clothes or towels.
2
Give a chair a new home. This classic farmhouse chair is the kind of piece you can pick up on eBay or in secondhand shops. If it has lost its matching partners, put it to work as a useful extra surface in the bathroom: Its dark wood tones will work as an interesting focal point in a sparkling white bathing space.
3
Mix farmhouse and industrial pieces. This superb farmhouse workbench is a good partner for the more industrial-style stools. It softens up the hard black edges here, keeping the kitchen mood easygoing and natural. Even if you want edgy industrial touches in your kitchen, this is still the cozy heart of the home, and a rustic piece like this can add that essential warmth.
4
Contrast with sleek fittings. This bathroom is eclectic rather than bland with the choice of mirrors and the pair of unusual stools that could have hailed from a milking parlor. They make the perfect step to help toddlers reach the sink and add so much more character than the classic plastic versions.
5
Think long and lean. Kitchen extensions can create long but not necessarily wide spaces. If this sounds like yours, exploit the room's proportions with a table and benches originally designed as a place where farm laborers could sit after a hard day's work in the fields.
6
Paint furniture whiter than white. In a pale scheme such as this one, with white painted floorboards and paneling setting the tone, you can keep farm furniture bright and light with several coats of paint. Some modern paint formulations even mean the hard work of sanding and prep isn't essential.
7
Add charm to a hallway. This rustic bench has been repurposed, leaving its farming roots far behind in a contemporary hallway. Its neat size means it's not an imposing piece — a common problem with furniture that has to squeeze into a hallway — so it works as a place to sit when pulling on boots, or as a mini library stand, as here.
8
Tone down darker woods. A white backdrop contrasts well with dark wooden furniture, but include too much natural wood and you can lose the clean effect of the walls. This vintage table works brilliantly, as it's complemented by stools that keep the rustic mood but are cast in fresh white. The overall look is coherent but not too heavy on the dark wood.
9
Mix your eras. The worn-away dips and curves of this farmhouse stool fit the rustic setting but contrast nicely with a side table and an upholstered stool from different eras. The ikat weave on the footstool and the midcentury poise of the round side table could clash with the farmhouse stool, but because all three items are of similar heights and in rich wood, it works just fine.
ANY IDEAS ABOUT THIS TOPIC?