TVs are one of the oldest high-tech home staples. The first televisions let people watch evening programs, news, and moved America out of radio entertainment. Today, these high-tech televisions will increase your viewing experience of your favorite shows. Some of these devices haven't yet hit the market, but can surely be seen as big items for your home in the future.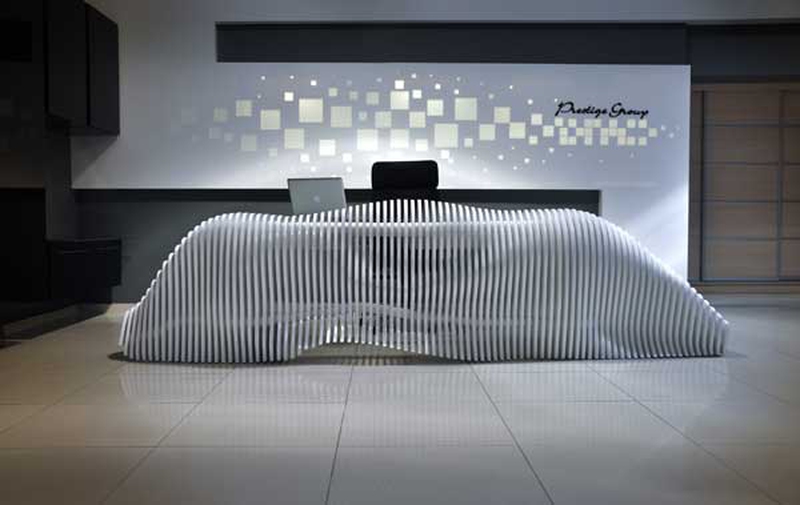 Part 1
1
The HiCan Bed
While this is not an individually branded television, this new technology replaces your bedroom television with a bed and an entertainment center. HiCan stands for "high fidelity canopy." This bed has blinds that can enclose the sleeping space and provides the finest bedding system. The HiCan bed is like a home theater connected to a high definition projector that lets you watch movies and shows on a sliding screen at the foot of the bed. The HiCan bed also integrates with home automation and entertainment. You can connect your Netflix, Hulu, and other streaming subscriptions, as well as hook up your video gaming systems.
2
Transparent Televisions
Is your flat screen TV not very sexy? Thanks to designer Michael Friebe, a transparent television may soon be a reality. This TV is currently a branded concept, the Loewe Invisio. This television made a huge impact at the 2011 iF Concept Design competition. Friedman's design is also currently under consideration by Apple, giving the computer company a huge edge on the television market. The television doesn't have any borders or frames whatsoever, giving the television the ability to blend instantly with its surroundings when it is off.
3
Samsung Smart Window
In 2012, Samsung's Smart Window immediately took home the top prize at CES. This device hangs on your wall over the window. It lets you watch standard television, cable TV, and access your streaming subscriptions. There are different social media functions, too, letting you check your Facebook or Tweet. The Samsung Smart TV is translucent, so that you can see through the window when you're not watching television. Another neat feature of this high-tech TV is a virtual blind, so that you can block natural daylight from entering your home. Product demonstrations also show a smart shopping feature, letting you make purchases online. This high-tech device will be released sometime in the future as Samsung perfects the Smart Window's functionality.
4
LG 55EC9300 OLED TV
OLED TVs are not necessarily new; they've been on the market since 2008. We like LG's model because it was one of the first ones priced under $5,000. This television is a 55-inch, 3D capable device. It has extremely high resolution, at 1080 p. The 4 HDMI outputs allow the owner to make this a centerpiece of their current high-tech entertainment system and contain 1 component-video output. The highest-priced version of this television that we found was around $3,500. While not the best OLED television, we found that this device was a great entry-level OLED TV, much better than existing LED and plasma televisions.
5
LG Electronics 55EA9800 Cinema 3D 1080p Curved OLED TV with Smart TV
This is another high-quality OLED TV from LG. This is probably the thinnest TV on the market. We found that it was only 4.3 mm thick and has a stunning picture quality with LG's Infinite Contrast technology. The 4 Color Pixel technology is also an important feature of this OLED, adding white sub-pixels to the traditional red, green, and blue picture setup. This unit is also Smart TV enabled. We found that this was an affordable, futuristic television unit.
6
Samsung 55-Inch OLED TV
Samsung was a little bit behind the industry in spitting out its line of OLED televisions. However, their latest model was worth the wait, being one of the best on the market. This device features a 55-inch floating canvas, which draws the viewer into the viewing space. This TV is also the first that allows two people to simultaneously watch different HD, stereo programs at once with the 3D glasses. The TV is also smartly enhanced, letting viewers access the Internet and social media, surf the Internet, and integrate other hardware for the top viewing experience.
7
Vizio E0-B Series
Available for under $600, you can't beat the high-priced OLED TVs on the market. This line of televisions from Vizio features Internet apps, letting you enjoy streaming television. A full-array LED backlight distributes each individual LED across the entire screen, providing top picture performance. An internal Wi-FI card also reduces wire clutter, letting you access your favorite shows on the Internet.
8
TCL FS4610R Series w/ Roku TV
Many people are on the LCD television market for a secondary unit in their home. This device, with built in Roku, delivers the most affordable smart television product on the market. Interface apps and streaming video on demand can make this unit a great replacement for your standard definition. The price is about $350, making this the most affordable futuristic television on the market.
9
Sony KDL-W800B
Sony is always known for its high-quality televisions. This system is great because it contains the entire array of standard web browsing capabilities of the high-tech TVs on the market, including the ability to take a Skype call. This TV comes with two 3D glasses and has 4 HDMI and 2 USB inputs. This TV also has a subwoofer out line, allowing easy integration into a high-tech entertainment system. Overall, this is an affordable television, with a price from $800 to $900.
The future of television is still in flux. TV is competing hard with computers and smart technology for market share, especially with streaming videos. However, these latest TVs contain everything needed for the futuristic television experience, upgrading a person's living room for the next century.
ANY IDEAS ABOUT THIS TOPIC?