An official request for time off from a job is a leave of absence letter. It is written by an employee to an employer or supervisor. Making a good leave letter is important, not only to convince your boss you need the time off, but also to assist your human resources department to run smoothly. It could have been a long time since you wrote your last formal letter, so you want to refresh your memory on letter formatting before you turn it in. Below are some recommendations from experienced human resources professionals and experts on how to write a leave letter which will work in the way it is meant to.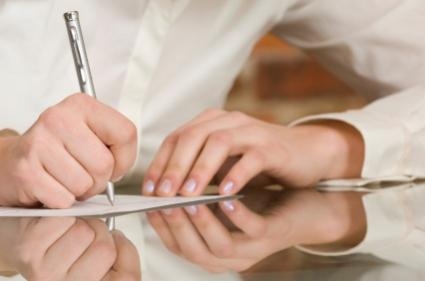 How to Write Leave Letter
1
Why are you writing the letter? Get right to the point. The first sentence should state clearly what the intent of the letter is and to request your leave of absence.
Before writing the letter you should have already discussed the leave of absence with your boss, so your first sentence needs to refer back to your discussion.
2
List the specific range of dates you want to take off. You may or may not know the expected dates you'll be absent from work depending on the reason for your leave letter, but be as exact as you can. Having a schedule that is clearly-defined will make your letter more successful.
Be honest and if you need time off for an illness, make your boss aware your return date will be on the recommendation from your doctor. Also, do not ask for more time off than needed.
3
Explain why you need time off. Don't overshare, but your boss needs to be made aware why you have a legitimate reason for missing work. Make sure the purpose is clearly stated no matter what it is for, whether its family emergencies, medical reasons or important life events like a birth of a child.
4
Give contact information for while you are gone. There could come a time when your coworkers or boss need to reach you for information. Therefore, include your contact information in the leave letter to them and the extra work they'll have to do while you are gone.
5
Set the correct tone. You have to decide if the days you are asking off are for something like parental leave, or if you're asking your boss for a favor.
If you are asking for time off that isn't owed, be apologetic for the inconvenience and promise to make up for it in the best way that you can.

Make your boss aware of any sick days or vacation time you have accumulated.

Put this information in your leave letter to make things clear for human resources if your boss wants to deny your request or you need to appeal the decision.
6
Include suggestions for delegating work when you're away. Though you want your boss to decide, make suggestions to which of your coworkers you think can best cover different aspects of your job while you're gone.
Don't put it all on one person, spread the work around evenly and base it on an individual's strengths.

Include any suggestions that could save your boss work, to make them more likely to approve your request.

Understand that the extra work your coworkers might have to do is something out of concern or courtesy so be thankful and gracious.

At a smaller company, your leave letter may be enough for record-keeping needs, however bigger companies usually have additional paperwork. If this is the case, outline your process of completion to put everyone at ease that the paperwork will be or is completed.
Leave Letter Samples
1
Your Name
Address
City, State, Zip Code
Phone Number
Date
Recipient Name
Title
Organization
Address
City, State, Zip Code
Dear Mr. /Mrs. Last Name:
This is my formal leave letter to follow up with our discussion from yesterday. As per our discussion, I'd like to request a leave of absence from September 1 through October 31. I will be returning to work on November 1.
Please make me aware if I can give you any additional information of if you have further questions.
Thank you so much for your consideration in providing me with the opportunity for this leave time.
Sincerely,
Your Signature (hard copy letter)
Your Typed Name
2
Cindy Smitty
123 Main St.
Albany, GA 21456
[Date]
Sandra Wing
HR Manager
Russell Industries
45 Bollins Rd
Albany, GA 21456
Dear Ms. Wing
Please accept this as my formal leave of absence letter to inform you of my intentions to complete my maternity leave for two months, beginning January 22, 2015 and returning March 22, 2015. I've included a medical certificate to confirm my pregnancy and the expected date of delivery.
I will make sure that any work left is done and records updated before I leave. Do not hesitate to call me if you need anything else or if there's anything I can do to make the transition easier.
I have attached a statutory declaration in regards to my maternity leave as required by law.
Thank you for the support and I look forward to my return in March.
Kind regards
[Sign here]
Cindy Smitty
3
Your Name
City, State, Zip Code
Phone:
Email:
Recipient Name
Title
Organization
Address
City, State, Zip Code
22 January 2015
Dear [Recipient Name]:
This letter is to request a fifteen day leave of absence for reasons which are medical. I've not been in good health for a while and my doctor wants me to take some time off work. I have provided supporting medical information from my doctor. I would like to leave work on February 1 and return on February 16 if possible.
Even though I won't be in the office during that time, I can be reached via phone or email. Do not hesitate to get in touch with me if there are any questions.
Thank you for your consideration.
Sincerely,
Signature
Name
4
Silas Jones
15 January 2015
To,
Michelle Radison
HR Manager
Goodwill Associates
North Carolina
Dear Michelle,
Re: Leave of Absence
This leave letter is to confirm that I won't be in the office for a one week period that will begin on February 1st. I will be undergoing minor surgery on February 1st as you already know, and will need a week of total rest.
I'm involved with two major projects and have given my responsibilities over to Susan Smith, who is very knowledgeable in the projects and can handle them with no problems. Except for the first two days of my leave, when I'll be under sedation and total rest, I will be available by phone.
I will return to work on February 8th, 2015 as discussed.
Thank you.
Yours sincerely,
Silas Jones
Tips
If your request is approved, see if there is a specific form you'll need to submit so it is properly documented.

Know that your company has the right to deny a leave request, so think about how you'll handle this situation if it's not approved.

Review the leave of absence policy for your company so you can be sure your request is consistent with any existing requirements.

You could be asked by your employer for documentation to verify the reasons your leave is necessary. You might want to submit the documentation with your original letter.

Speak with your supervisor in a courteous manner to let them know when you'll be gone and work with him/her to make sure your duties are taken care of in your absence.

Know your coworkers will be curious about your reasons for leaving so think of a plan for handling their questions.

Make sure you're prepared to handle any financial implications of not working during the requested timeframe, as this time will likely be unpaid.
ANY IDEAS ABOUT THIS TOPIC?