Ebola Viral Disease is a type of hemorrhagic fever discovered in humans in the late seventies in the Congo, the Sudan and Uganda. It presents much like influenza in the early stages: muscle aches, headache, fever, sore throat, vomiting, diarrhea, but then progresses until dehydration and exsanguination take over the victim's body. Early treatment provides the best chance for survival. Quarantine is necessary and hydration is vital. In order to prevent the transmission of Ebola, there are three basic things you can do: wash your hands with soap and water; avoid contact with anyone else's bodily fluids and avoid contact with known or suspected Ebola victims. This article highlights major ebola latest news.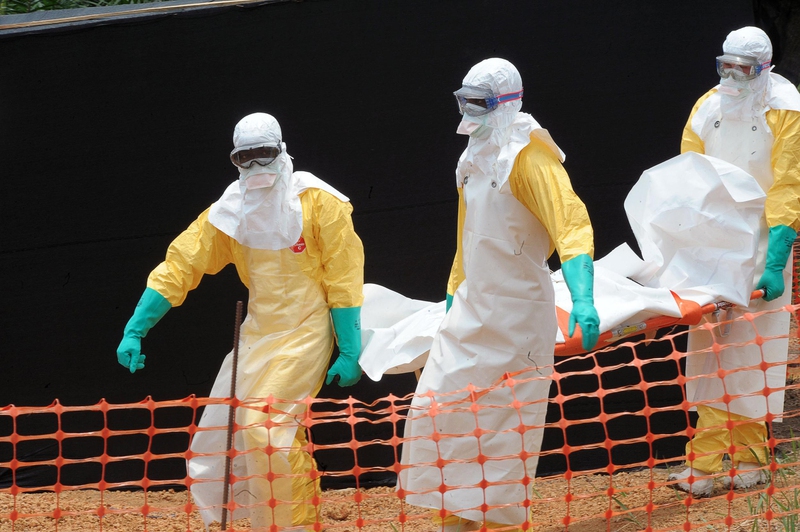 Ebola Latest News 2014
1
Ebola Case Is Not Yet Discovered in China (Case Suspected)
On October 16th a Nigerian man flew from Taiwan to China. Upon arrival in China, he was checked for fever and his temperature was elevated. He was quarantined and hospitalized. Yet, the city health bureau stated the next day that he did not have Ebola and that they had confirmed this and that the patient's temperature had receded. Rumors had already started and a biomedical laboratory notified its employees to refrain from frequenting public places.
2
Ebola Cases in US
August 2 - Dr. Kent Brantly flies from Liberia to Emory University's containment center for treatment in Atlanta, Georgia; he contracted Ebola on or before July 27 working for Samaritan's Purse offering aid to the sick and dying in Monrovia
● August 5 - Nancy Writebol, who also worked as a missionary in Liberia and contracted Ebola around the same time as Brantly is flown to Emory's isolation unit
● August 19 - Nancy Writebol is released from Emory University Hospital
● August 21 - Dr. Kent Brantly is discharged from Emory amid much fanfare
● September 3 - Dr. Rick Sacra, an American missed amongst all the attention paid to the first two victims, is diagnosed with Ebola, although he was caring for patients in a labor and delivery ward, not an infectious disease ward while volunteering in Liberia
● September 5 - Dr. Sacra goes to Nebraska's Medical Center, one of the U.S.'s four specialized treatment centers equipped to deal with Ebola, where he receives blood from Dr. Brantly, which is thought to provide some healing
● September 9 - An anonymous American goes to Emory seeking treatment. The patient had been working in Sierra Leone for the WHO
● September 20 - Thomas Eric Duncan arrives from Liberia in Dallas on a visitor's visa
● September 24 - Dr. Sacra is released from Nebraska Medical Center
● September 26 - Duncan seeks emergency care at Texas Presbyterian, with a fever of 103, telling the nursing staff he'd been in Liberia recently; he is sent home
● September 28 - Duncan is brought in via emergency vehicle and isolated
● September 30 - CDC confirms Duncan has Ebola
● October 2 - NBC cameraman Mukpo is diagnosed in Liberia with Ebola; he had been filming ambulance medics and other healthcare workers for a week
● October 5 - Dr. Sacra is hospitalized again, this time at UMass
● October 6 - Dr. Sacra is released from UMass after physicians rule out Ebola
● October 6 - Ashoka Mukpo is transported to Nebraska Medical Center
● October 8 - Duncan dies in Dallas hospital
● October 9 - Dallas County sheriff's deputy who served a quarantine order on Duncan's apartment tests negative
● October 10 - Nurse Amber Vinson, who had cared for Duncan, flies commercial Dallas to Cleveland to see her fiancée and plan for her wedding
● October 12 - A Dallas healthcare worker responsible for Duncan's specimens goes on a cruise. After the ship departs, CDC notifies the employee about active monitoring regarding Ebola exposure
● October 12 - Nurse Nina Pham, who cared for Duncan, tests positive for Ebola
● October 13 - Nurse Amber Vinson flies home on a commercial flight with a low-grade fever, so low, in fact, that, at any other time, it wouldn't have been worth noting. Before flying, she notified the CDC of this and was given no instructions on not flying
● October 14 - Vinson taken to hospital where she contracted Ebola with a fever
● October 15 - Vinson is diagnosed with Ebola and flown to Emory
● October 16 - Pham is flown to National Institutes of Health (NIH) in Maryland, where there is an isolation unit for treating Ebola
● October 17 - Officials announces that the Dallas healthcare worker aboard the Carnival Cruise Ship is under quarantine
● October 19 - The anonymous patient at Emory is discharged
Over the past few days, the suggestion has been made to double the quarantine time as well as to disallow citizens of countries afflicted by Ebola entrance to the U.S. until this runs its course, which could be up to nine months.
3
2014 Outbreak Death Toll
As of the start of Oct, 2014, the WHO lists the following as deaths, as well as probable, suspected and confirmed cases:
● Guinea - 778 fatalities, 1350 cases
● Liberia - 2316 fatalities, 4076 cases
● Nigeria - 8 fatalities, 20 cases
● Senegal - 0 fatalities, 1 case wherein the infection originated in Guinea
● Sierra Leone - 930 fatalities, 2950 cases
● Spain - 0 fatalities, 1 case
● U.S. - 1 fatality, 6 cases
4
Ebola Outbreak News Timeline 2014
March 25, 2014 - The CDC issues initial announcement on Ebola outbreak in Guinea, and reported cases in Sierra Leone and Liberia. In Guinea, among 86 suspected cases, 59 people died.

April 16, 2014 – In a report published by The New England Journal of Medicine, it is speculated that the current outbreak's Patient Zero was a two-year-old from Guinea, who died on December 6, 2013, followed by his mother, sister and grandmother over the next month.

July 2014 - Nancy Writebol, an American aid worker in Liberia, tests positive for Ebola.

July 26, 2014 - Kent Brantly, medical director for Samaritan Purse's Ebola Consolidated Case Management Center in Liberia, is infected with the virus.

July 30, 2014 - The Peace Corps announces it is removing its volunteers from Liberia, Sierra Leone and Guinea.

July 31, 2014 - CDC raises its warning to Level 3. U.S. residents are warned to avoid "nonessential travel" to Guinea, Sierra Leone, and Liberia.

August 4, 2014 - CNN reports that three top secret, experimental vials of the drug, "ZMapp," were flown into Liberia last week in a last-ditch effort to save Brantly and Writebol.

August 8, 2014 - Experts at the World Health Organization declare the Ebola epidemic ravaging West Africa an international health emergency that requires a coordinated global approach, describing it as the worst outbreak in the four-decade history of tracking the disease.

August 19, 2014 - Liberia's President Ellen Johnson Sirleaf declares a nationwide curfew beginning August 20 and orders two communities to be completely quarantined, with no movement in or out of the areas.

August 21, 2014 - Dr. Kent Brantly is discharged from Emory University Hospital. It is also announced that Nancy Writebol had been released on Tuesday, August 19.

September 16, 2014 - President Barack Obama calls the efforts to combat the Ebola outbreak centered in West Africa "the largest international response in the history of the CDC." Obama adds that "faced with this outbreak, the world is looking to" the United States to lead international efforts to combat the virus.

September 30, 2014 - Dr. Thomas Frieden, director of the CDC, announces the first diagnosed case of Ebola in the United States.

October 1, 2014 - Liberian government officials release the name of the first diagnosed case of Ebola in the United States: Thomas Eric Duncan.

October 6, 2014 - A nurse's assistant in Spain becomes the first person known to have contracted Ebola outside Africa in the current outbreak. The woman helped treat two Spanish missionaries.

October 8, 2014 - Thomas Eric Duncan dies of Ebola in Dallas.

October 11, 2014 - Nina Pham, a Dallas nurse who cared for the now-deceased Ebola patient Thomas Eric Duncan, tests positive for Ebola during a preliminary blood test. She is the first person to contract Ebola on American soil.

October 15, 2014 - Amber Vinson, a second Dallas nurse who also cared for Thomas Eric Duncan, is diagnosed with Ebola.

October 20, 2014 - Under fire in the wake of Ebola cases involving two Dallas nurses, the CDC issues updated Ebola guidelines that stress the importance of more training and supervision, and recommend that no skin be exposed when workers are wearing personal protective equipment, or PPE.
(Source: http://www.cnn.com/2014/04/11/health/ebola-fast-facts/)
5
Ebola Mutations
Among the latest Ebola news, many people are frightened by the idea of Ebola mutating into a more contagious disease. The WHO, widely regarded as an authority when it comes to global health issues, has sounded the alarm that by December the possibility exists of 10,000 Ebola cases per week. Researchers attribute the intense outbreak to Ebola's nearly four hundred mutations. Each time a person is infected with a virus, any virus, the virus replicates itself. Think of when you copy something on a machine, some copies are lousy. Well, virus copies tend to be very lousy and there tends to be an abundance of lousy copies instead of accurate copies. The bad copies are the mutations, which allow the virus to survive longer, in harsher circumstances, despite medications, etc. This may explain why this outbreak seems so much more severe than those in the past. It just might be possible, according to Peter Jahrling, Chief Scientist - National Institute of Allergy and Infectious Diseases that this strain of the virus is copying itself faster and infected bodily fluids have a higher viral load than in the past.
Ebola is highly infectious without these added characteristics. A tiny drop of virus-contaminated bodily fluid is necessary to transmit the virus. It is estimated that one fifth a teaspoon of blood contains ten billion viral particles. Currently, once you have Ebola, you have lifelong immunity from that viral strain; if the virus were to mutate too much, our bodies wouldn't recognize it as the same virus upon subsequent exposure, thereby making us susceptible to the virus a second time. The other problem with is that it would render immunizations currently in development useless.
There is encouraging news, however; Adam Lauring, Assistant Professor, Division of Infectious Diseases and Department of Microbiology and Immunology at University of Michigan Medical School explains that most of the changes weaken the virus. We only need to grow concerned if the proteins in the virus start to mutate. In studies, this has happened to about a third of the proteins under examination. This is where it's important to remember that viruses make bad photocopier, so, even if the proteins were to mutate in a significant number, the virus would then have to copy itself accurately and be transmitted to another hospitable hosts. That's a number of variables the virus has to pass through before it becomes the perfect storm.
6
Experimental Drugs to Treat Ebola
ZMapp is the experimental drug given to Nancy Writebol and Dr. Kent Brantly. They received two of the only seven available doses. It is a combination of two older experimental drugs (tested on rhesus monkeys and macaques), which draw from mouse antibodies, which are genetically engineered with human components and put onto the tobacco plant. It has yet to go thru a double-blind study in humans, or Phase 1 trials, which is the norm, prior to a drug being released to market. The National Institutes of Allergy and Infectious Diseases participated in the development of ZMapp. Part of the reason that only two doses were available is that it takes so long to grow ZMapp. The tobacco has to be infected with Agrobacterium cultures (this is the second step in developing the pharmaceutical), then the antibodies have to draw from the plant and purified. The whole process takes several months. All doses have now been used. There is some controversy over whether the available doses should have been used on Europeans and Americans. On the other hand, one doctor aptly pointed out that the outcries would have been similar had it first be used on Africans, because of its experimental nature.
There is another experimental medication that has not gotten as much press. The FDA will allow its use under the current circumstances. It's called TKM-Ebola and it interferes with the RNA (the code on which Ebola is based).
ANY IDEAS ABOUT THIS TOPIC?