If you are anything like me, your sweatpants are your favorite article of clothing. After class you go home, strip off your jeans or leggings, and go find your comfiest pair of sweats. They are the ideal piece of clothing for a night of Netflix and pizza or a day of studying for that big exam that you have the following week.
But when it comes to making a fashion statement, sweats aren't usually the best option. Although sweatpants are the ultimate in comfort, this doesn't mean you can't look stylish in them.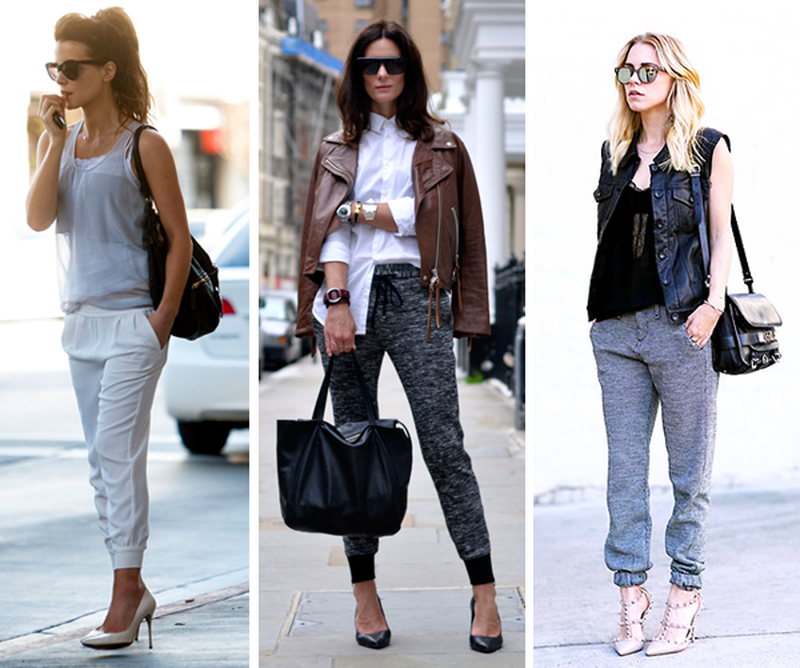 Part 1
1
Choose Fitted: When choosing the right sweatpants to make a fashion statement, leave the old, baggy, loose-fitting ones at home. Opt for a more fitted pair of sweatpants, also known as "joggers", to make you look more put together while running errands or grabbing coffee with friends. Choose a pair that are long enough to wear just as they are or are comfortable enough to cuff at the ankle for a more stylish ensemble.
2
Try a Trendy Top: For a day of lounging around the house, there is no better outfit than a sweatshirt and sweatpants. But when you want to leave the house, skip the sweat suit outfit and try a stylish top with your sweats. Denim shirts paired with fitted sweats give off a totally laid back, cool vibe, especially paired with Converse sneakers. If you want to be comfy and cute, you can always throw on a cardigan over anything. You can even try a loose-fitting, off-the-shoulder t-shirt with the front of it tucked into your sweatpants. Now if you are absolutely positive that you cannot give up your sweatshirt ways, try a cropped style sweatshirt; it will give you a more figure flattering look while still being totally comfortable.
3
Choose Color & Accessories: Stay away from the classic "groutfit". Try sweats in black to give you a more polished, put together look. Black is an ideal color for sweats because it is effortless and will work seamlessly with any other color in your closet. If you do want a gray pair, stay away from the traditional heather color. Try gray sweats in a charcoal or a patterned gray for a statement article of clothing. When accessorizing try adding a cool scarf or a beanie to dress up or dress down your outfit. Shoes are an important accessory as well. Skip the Nikes, and try a pair of booties or flats to make your sweatpants-outfit more stylish.
ANY IDEAS ABOUT THIS TOPIC?