Mehndi, is an old Asian and Persian tradition also referred to as henna. Women make use of henna to create intricate designs for decorating their hands and feet as a way of marking special events or to just look trendy.
Below are some very effective tips on how to make henna darker and last longer, thereby giving you a very amazing look.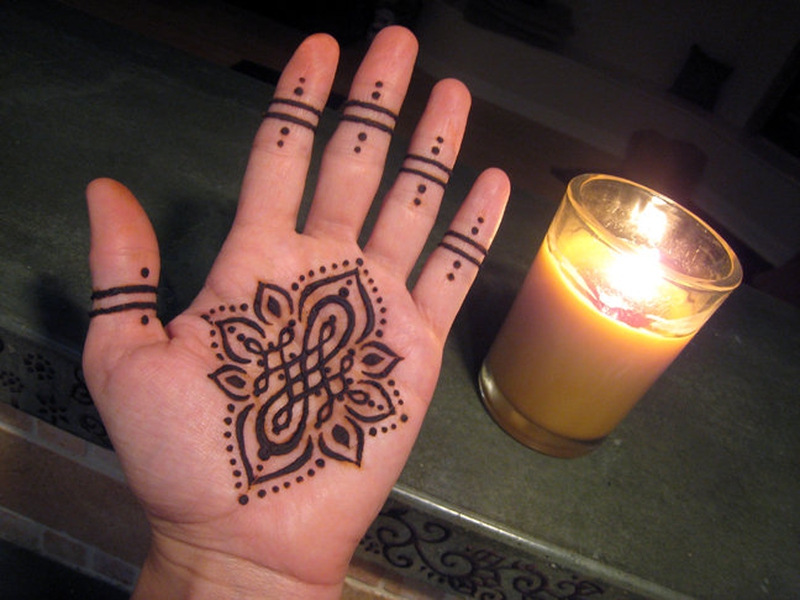 How to Make Henna Darker: 8 Practical Tips You Shouldn't Miss
1
Use a Good Quality Henna
Getting a good and long-lasting henna begins with choosing quality henna like Artistic organic, Jamila, or Mohana. Ensure it is properly stored and that the dealer you got it from also keeps it properly stored. The most appropriate place to store your henna is in a cool, dry place away from sunlight.
2
Use High Quality Essential Oil
The type of essential oil you choose when you mix your henna paste is essential to a dark, long-lasting stain. The best oils are the ones that contain very high concentrations of monoterpine alcohol such as cajeput, lavender, tea tree, and eucalyptus. Cajeput is widely accepted as the best option. It comes with a very mild scent that easily blends with other oil such as Sweet Orange and Lemon Grass and leaves a dark stain. For most satisfactory results, mix about one ounce of essential oils with each of the 100g of the henna you mix.
3
Use Sealant on the Finished Henna Design
Once you see that the henna design has dried up, make sure you seal the design to the skin with a sealant. The most popular sealant comes from equal parts of sugar and lemon juice. A visit to www.ArtisticAdornment.com will expose you to a large number of high quality ready for use lemon sugar sealant. This is equally the most conventional technique for sealing your henna design. It is also possible to mix white glue and water or use a mixture of hairgel/hairspray. Sealants are always reserved for indoor events or private appointments. It may be risky to apply a sealant during a festival due to its tendency to attract bees to the design of your client.
4
Use Vicks or Tiger Balm
Yes, this may sound absurd, but the truth remains that these balms are very effective when it comes to keeping your mehndi dark for as long as possible. Once you have scraped off the dried henna from your hands, apply some Tiger balms or Vicks on your palm. These will bring out more color and helps keep the stain darker longer.
5
Leave the Henna Paste on for Long
The henna paste becomes better if it stays on the skin for long. Henna usually dries within 30 minutes and most clients try to brush it away immediately. Make sure you encourage them to leave it on the skin for at least one hour. An hour is ok, and leaving it overnight is much better and leaving at any duration between the two mentioned times is just perfect.
6
Try Lemon and Sugar Mixture
While drying the henna, try to use a mixture of sugar boiled in water with a few drops of lemon juice added to it. Dab this cooled sown mixture on your hands regularly. The sugar will keep the mehndi sticking to your hand for a longer period and the lemon juice will play the role of a catalyst to get more color released from the henna.
7
Try Cloves for Darker Stain
Boil some cloves and add some garlic to the cloves. Place your hands on the top of the henna designs and allow your mehndi to get soaked in the steam. Make sure your hands don't get burnt by the steam. This is yet another very effective way to keep henna darkened on hands or feet.
8
Remember These Don'ts
For how to make henna darker, there are still some don'ts you should always keep in your heart:
Avoid using soapy water to wash your hand, because soapy water can separate your mehndi into different faded portions and this will look appalling.

Avoid shaving your hands after applying the henna as it can scrape the upper part of your skin as well as the mehndi.

Avoid washing your hand right after the application. Stay away from water for at least 6 hours. Try not to take your bath for at least twelve hours before the application.

Avoid drying the mehndi with a blow dryer on your legs and palms no matter the situation. This can cause bleeding in the henna and destroy the design.

Do not make use of chlorine. Chlorine is a kind of bleach found in all swimming pools. It will stop the process of oxidization and make your henna stain fade quickly.

Do not make use of any skin care products that come with exfoliating properties. Do not use any body scrubs or moisturizers that contain alpha hydroxy. Henna will stain the first 2 layers of your skin. Once you get a layer scrubbed away, the stain fades away quickly.

Avoid the use of alcohol based hand sanitizer. It interferes with the oxidation process and dries your skin.
ANY IDEAS ABOUT THIS TOPIC?