After an emotional breakup, it can be hard to put into words exactly how you feel. Thanks to music, we can use songs to help us express these emotions. Music can take us through a variety of feelings when we need that support the most. If you are past the sad breakup song phase where you sob with a glass of wine to grieve the relationship, then you are ready to feel strong and happy again. Uplifting music can transform us and catapult us ahead to a place of empowerment so you can get out there and move on with confidence.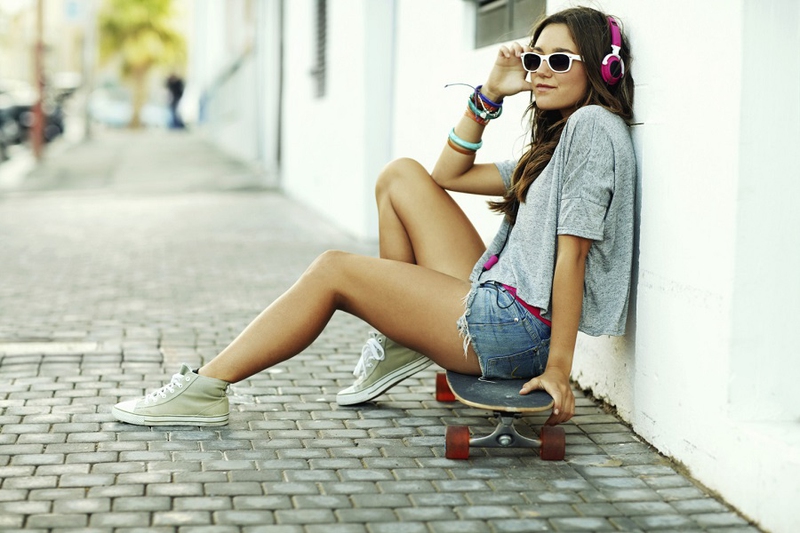 Happy Breakup Songs
1
"Since U Been Gone" - Kelly Clarkson
This amazing song is perfect if you have been burned but are ready to kiss of all those pains goodbye! The beat and lyrics will transcend you through to a happy place post breakup. You can rock out with your girlfriends and belt out the lyrics as you dance away the days where he hurt you.
2
"These Boots Are Made for Walking" - Nancy Sinatra
While it may be an oldie, it is certainly still a goodie. The words have outlasted time with its message about empowering women to move on. When he's wronged you and you aren't going to take it anymore, click play for this song and you will be in good shape in no time.
3
"I Will Survive" - Gloria Gaynor
This anthem is not just a dance floor staple, but it is great for blasting when you are ready to kick your ex out the door. With lyrics that are easy and specific, you can bet that your feelings of independence will skyrocket with this hit. After playing this song you will hold your head high and happily shut the door on your failed relationship.
4
"Ridin' Solo" - Jason Derulo
In those early days after grieving a breakup, it can be hard to venture out on your own. Have no fear with Jason by your side. You will be reminded of how good it feels to hit the town on your own. With many happy breakup songs out there, this one is perfect to pump you up for re-entering the world.
5
"Dancing on My Own" - Robyn
As an all-time favorite breakup anthem, this song takes the sadness from a breakup and turns it into a goose bump filled dance session. This song chants about a girl witnessing a bit of cheating, but with her heart on her sleeve, she keeps moving forward. Thank you Robyn for this dance hit and all your inspiration for female empowerment!
6
"You're Not Good Enough" - Blood Orange ft. Samantha Urbani
Just when you are about to fall back into the sadness phase, turn this tune on for a healthy reminder that you deserve better. This song offers a nice confidence boost to get you back on track to recovery. Hang in there and remember that there is a whole world out there waiting for you.
7
"Survivor" - Destiny's Child
Not many song lists can escape Beyonce, and with this throwback to Destiny's Child, you will feel strong and empowered in no time. This song serves to remind all women that no man should put you down, and what doesn't kill you makes you stronger. Despite all the abuse of a battered relationship or breakup, this song preaches forward positive thinking. The dance beat certainly doesn't hurt.
8
"Gives You Hell" - All American Rejects
As a lyrically stimulating tune, this song tells a story that ramps you up for revenge to an ex. He chants proudly how happy he feels now that he's moved on from a relationship that wasted his time. With no regrets, this song will help you move ahead along with all the other happy breakup songs.
9
"Breakin' Up" - Rilo Kiley
This cheerful song almost escapes all evidence of sadness. It has a reassuring mantra that will help single people everywhere feel good to be free. If there is any trace of sadness left, you will kick it out of your head with this upbeat, sunny song helping you to move on.
10
"So What" - Pink
Sometimes the best way to get through a breakup is to chant about your awesomeness. After being roughed up by a tough breakup, it never hurts to be reminded of your own rock moves. With Pink's unique voice and the beat this jam offers, you're on your way to some fun nights out. You will be reminded that you don't need him anyway.
11
"Bye, Bye, Bye" - 'N Sync
When you are ready, kiss that ex lover goodbye! With a more cynical view on love than the band was known for, the lyrics will transform you to a strong place. This song can even work with people in your life who are unhealthy and too controlling. With the popular dance moves that accompany it, this song will definitely help in the breakup process.
12
"Faith" - George Michael
While the story line may not match up with yours, the message is clear. Even through some rough times and mistakes in relationships of the past, it's critical that you preserve with faith and believe in yourself. Not only was it a big hit but this song is a cheerful way to get through the hard times.
13
"Hit Em Up Style (Oops!)" - Blu Cantrell
As the saying goes, hell hath no fury like a woman scorned, and Blu Cantrell doesn't miss a beat with her one-hit wonder. Her fun shopping spree to seek revenge to her ex is an uplifting way to channel your feistiness. This song is for all of the people who have been cheated on, and through the sadness she too finds happiness.
14
"Go Your Own Way" - Fleetwood Mac
Rounding out the happy breakup songs, we have another old classic. This song helps you express that it's okay to move on, and even when things don't go as planned, you can let that ex go their own way. While they remorse the love lost, Fleetwood Mac methodically cheers of a positive separation.
15
"Fuck You" - Cee-Lo Green
When all else fails, a little cursing goes a long way to help get through a breakup. After a shattered romance, kick your ex's sorry butt out the door without looking back. As an upbeat, easy sing-along, this song helps you with the discovery of happiness in the face of a breakup.
ANY IDEAS ABOUT THIS TOPIC?