Many notable entertainers have died during a performance, whether it was live on stage or while filming for a movie or show. Here are 15 entertainers you might not have known tragically passed away mid-performance.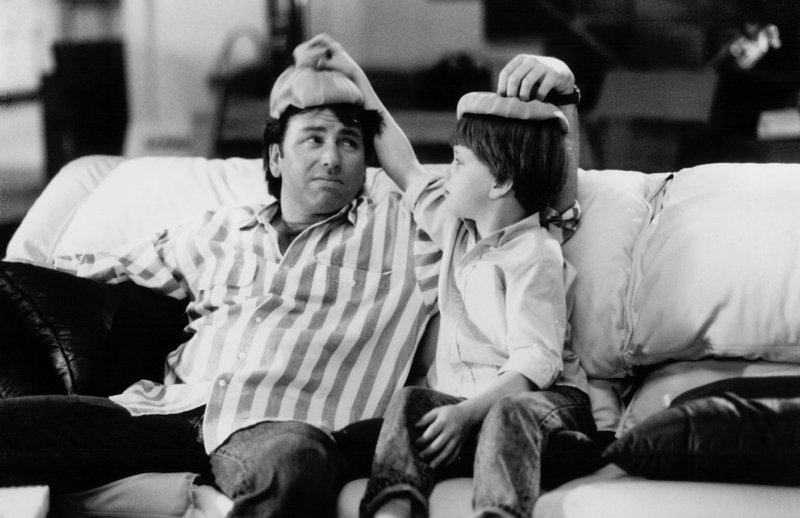 Part 1
1
JOHN RITTER
On September 11, 2003, beloved comedian John Ritter was on set filming the ABC sitcom "8 Simple Rules for Dating My Teenage Daughter." He started to sweat profusely and reported having chest pains. He went across the street from the studio to a hospital where he was diagnosed with aortic dissection. Doctors couldn't revive him, and he died during surgery at age 55.
2
LASSE ERIKSSON
Lasse Eriksson was a Swedish comedian and actor who was one of the country's first and most prominent stand-up comedians. On March 3, 2011, Eriksson died on stage during the final bit of his routine at a show in Uppsala.
3
STEVE IRWIN
Who could ever forget the legacy of the Crocodile Hunter? On September 4, 2006, television personality Steve Irwin was stung multiple times by a stingray while filming an underwater documentary called "Ocean's Deadliest." He reportedly died at the scene. His death made international headlines, as Australia lost a national hero and the world lost a beloved nature enthusiast.
4
TY LONGLEY
The Station Nightclub Fire is one of the deadliest nightclub fires in U.S. history. On February 20, 2003, pyrotechnics created an inferno during a Great White concert. Ty Longley, the band's guitarist, was one of the 99 people to perish in the tragic event, which shook the state of Rhode Island and led to a national discussion over fire safety and public fire alarm standards.
5
DIMEBAG DARRELL
On December 8, 2004, "Dimebag" Darrell Abbott (known as the former guitarist of the groove metal band Pantera) was murdered on stage mid-performance by a gunman in Columbus, Ohio. The gunman killed three other people that night and wounded seven others before security fatally shot him. Motives for the gunman's attack remain unclear to this day.
6
TINY TIM
On September 28, 1996, the singer Tiny Tim suffered a heart attack right as he started singing at a ukulele festival at the Montague Grange Halthe in Montague, Massachusetts. He was 64.
7
BRANDON LEE
Brandon Lee was the son of famous martial artist Bruce Lee. Brandon tragically died on the set of the movie "The Crow" in an accidental shooting. On March 31, 1993, Lee and a fellow actor were acting out a scene in which Lee's character is shot upon entering a room. The prop crew had exchanged the live rounds of the gun with dummy rounds, but percussion primer left in the barrel of the gun accidentally caused a dummy round to be fired from the weapon with the same force of a live round. Lee died after being rushed to the hospital. He was only 28.
8
MANGO
Mango was an Italian singer-songwriter and musician who is considered to be an iconic figure in Italian pop music. On December 7, 2014, Mango suffered a heart attack while performing a concert in Policoro. He was performing the song "Oro" when he reportedly raised an arm and said the words "excuse me" to the crowd. He then collapsed and died on the way to the hospital. He was 60 years old.
9
DICK SHAWN
Shawn was a popular comedian who died while performing in San Diego on April 17, 1987. He collapsed face down on the stage due to a heart attack, but the audience thought it was part of his act (this was probably because part of his final comedy routine was a parody of a politician reciting campaign clichés, including the words "If elected, I will not lay down on the job."). Shawn was on the stage for about five minutes before a stage hand examined him and called for a doctor. A newspaper report the following day confirmed that Shawn had indeed tragically died mid-performance in front of hundreds of people.
10
SYLVIA SYMS
In 1992, celebrated jazz and cabaret singer Sylvia Syms died of a heart attack during her set at the Algonquin Hotel in New York City. The singer was 74.
11
RICHARD VERSALLE
In 1996, famous opera singer Richard Versalle died on stage at the Metropolitan Opera in New York during the premiere performance of "The Makropulos Case." He was in character and standing on a sliding ladder when he had a heart attack and fell to the floor. What's ironic is that the line he had been singing at the time contained the lyrics "Too bad you can live only so long." Cruel world!
12
REDD FOXX
Comedian Redd Foxx is beloved in the entertainment world for his role on "Sanford and Son," where he his character Fred Sanford was known for comedically faking heart attacks throughout the run of the show. In a cruel and ironic twist of fate, Foxx suffered a fatal heart attack while filming on the set of his other sitcom, "The Royal Family." Observers on set initially didn't do anything, thinking that he was performing a joke in the vein of his popular character. Foxx was pronounced dead later that same evening.
13
JON-ERIK HEXUM
On October 12, 1984, there was a break between scenes on the set of the CBS drama series "Cover Up." Actor Jon-Erik Hexum was on set during the film delays and began tinkering with what he believed was a harmless .44 Magnum prop gun. He jokingly played Russian Roulette with it, putting it up to his temple and pulling the trigger. The shot ended up sending parts from the blank cartridge in the gun into his skull, which caused massive brain hemorrhaging. He was taken to the hospital but declared brain dead. His organs were donated to a dying man in Las Vegas per his mother's request. Hexum was only 26 when the accident happened.
14
HARRY EINSTEIN
Einstein was a famous comedian and writer who died on stage on November 23, 1958 in Los Angeles. He had just finished his routine at the Friar's Club Roast of Desi Arnaz and Lucille Ball. When he suffered a heart attack and collapsed onto Milton Berle's lap. Berle shouted "Is there a doctor in the house?" to the crowd, which was reportedly met with laughter, as the crowd thought it was part of a running joke. Ball reportedly went to the microphone in tears, managing only to say "I can say nothing" to the shocked crowd.
15
MARTY FELDMAN
Feldman is best known for his popular role in "Young Frankenstein," but he's also unfortunately remembered for dying on set of his film "Yellowbeard" on December 2, 1982 in Mexico City. He was 48 years old. A contributing factor was likely the fact that he reportedly smoked around 5 packs of cigarettes a day.
ANY IDEAS ABOUT THIS TOPIC?