After receiving the No. 14 overall selection in the NBA Draft lottery, the Oklahoma City Thunder need a rookie who can contribute effectively right away. Defense and leadership are at the forefront of their needs, so here are five options OKC needs to consider in the upcoming 2015 NBA Draft.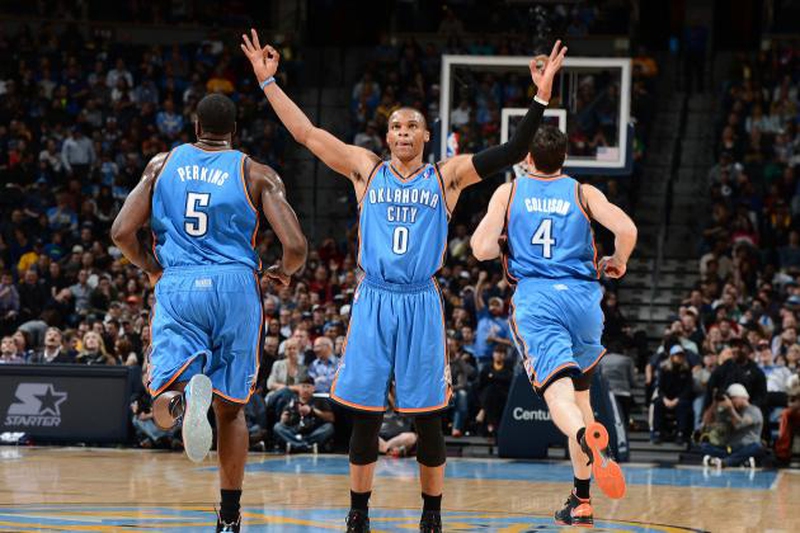 Part 1
1
SF - Sam Dekker
Dekker absolutely exploded during the NCAA tournament, and his stock is probably rising as you read. Currently rated as the No. 18 prospect, Dekker has all the tools, with great shooting touch, he's dangerous off the dribble and surprisingly super athletic. He does have to be in the right system to be really effective, but his skill set is truly amazing. He's offense may be there, but question marks will arise during other portions of his game.
2
PF - Montrezl Harrell
Harrell has shown the entire nation that he has a very high motor, and if he can translate that to the NBA he could be something really special. His shooting could use some work, but his super athleticism and passion for the game could really take him places. His leadership qualities are very underestimated, as well. Serge Ibaka would be a great mentor for Harrell, and between them they could become a terrific force in the NBA.
3
SF - Kelly Oubre Jr.
Oubre Jr. is honestly a risky pick, but I think he can flourish easily with Kevin Durant and Russell Westbrook aiding him during those transitions. Currently rated as the No. 11 prospect, OKC may have to trade up a little bit to snag him, but it really could pay off down the road. This freshman has all the skills and athleticism to do well; his only question is maturity. No matter what happens, keep your eyes on him in the future.
4
PG - TJ McConnell
McConnell may only be rated the No. 68 prospect in this year's upcoming draft, but don't let his rating fool you. He led his Arizona Wildcats to the Elite Eight this year, and his leadership capabilities are literally off the charts. He draws comparisons to Steve Nash and Matthew Dellavedova. His rating is too low to be chosen No. 14 overall, but OKC should trade down, add a veteran via the trade and then draft McConnell. He has game.
5
SF - Rondae Hollis-Jefferson
Hollis-Jefferson is currently rated as the No. 21 prospect in this year's upcoming draft, but I think he would fit the system in Oklahoma City perfectly. Plus, you can never take a really good player too early in any draft. The biggest weakness for OKC is by far perimeter defense, and Hollis-Jefferson fills that void instantly. He may play the same position as Kevin Durant, but the flexibility of those two will give the team fantastic options.
ANY IDEAS ABOUT THIS TOPIC?